By DJ Monk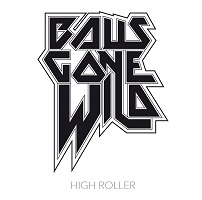 Hang on a second, what the fuck is that? Yes, that yellow disc thing up there? Oh, it's the sun… I wondered what you called it. Does that mean that mysterious concept called summer has arrived? Yes? Well, we better fire up the (t)rusty barbecue here in the back yard of ÜRHQ and get a few friends around for beers and boogies… Let's see, who to invite. Well, Lemmy hasn't waited for his envelope to arrive: he's just kicked in the gate with his cowboy boot and plonked down a case of JD, which Joey Ramone has joined Phil Lynott in cracking open, while Angus Young is fixing the waistband on his shorts and fine tuning his trusty red SG. With the great and good smelling the delicious aroma of stale BO and crisping leather, all that we need are some party toons…
They may have a fucking stupid name, but Cologne power trio Balls Gone Wild – made up of members of various German second division metal outfits such as Perzonal War, Nitrovolt and Architects of Chaoz – provide the perfect soundtrack for such a summer rock 'n' roll back garden shebang, with a collection of 11 tunes that deserve to be played so loudly that they not only annoy the neighbours next door, or even down the street but in the next fucking town. 'Cos this debut album is the perfect antidote for those summertime blues, and most definitely will blow the cobwebs away faster than the rain clouds will make that shiny little orb in the sky nothing more than a fondly remembered memory.
There's nothing fancy or clever about 'High Roller', but then there doesn't need to be: it's just a good, fun, heads down heavy metal party album, with elements of classic rock, punk and nods to the NWOBHM as well as fellow countrymen such as Accept, Running Wild and Tankard. This is a collection of fists in the air, hair to the floor anthems which should get every neck within a 50 mile radius hitting breaking speed right from the rumbling opening bass riff of the title track (and lead single) to the dying embers of 'Devil's Woman'.
Each of the songs is perfectly formed, with all the constituent elements in all right places, from catchier-than-Ebola main riffs through deliberately bombastic guitar solos to moments of almost refined harmony, all topped off with the sort of inane and nonsensical lyrics which make metal, especially of the European mien, so gloriously attractive. You cannot help but be sucked in by the thick grooves of the aforementioned title track, the sheer lunacy of 'Danger', the infectious repartee of 'Keep It Hot' and the delightful sarcasm of 'Satan's Son', to pick just a handful of aural highlights.
In the world of often pretentious modern metal, where everyone takes everything so seriously, it's good to know that there are bands out there who still know how to have fun and produce albums which put Joker-esque smiles on your face each and every time you listen to them. Balls Gone Wild have achieved just that… now find me a cold beer and a neck brace!
'High Roller' is released next Friday (26 July). You can get your copy HERE.
www.facebook.com/ballsgonewildband/
All content © Über Rock. Not to be reproduced in part or in whole without the express written permission of Über Rock.